Common name:
Grassy-Leaved Sweet Flag, Dwarf sedge, Japanese rush, Japanese sweet flag
Family:
Acoraceae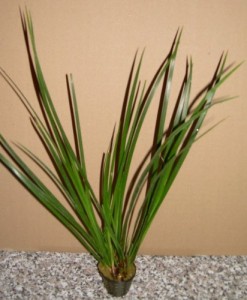 Acorus gramineus
Distribution and habitat:
Acorus gramineus
is native to Japan in eastern Asia, where it usually occurs in wetlands and shallow water. It can grow fully or partially submerged or in very moist soil, but it will usually only flower when at least partially submerged.
Description:
Acorus gramineus
narrow leaves, which grow in a dense clump or tuft rising from a slender rhizome that lies just below the surface of the potting mixture, are up to 45cm (18 inch) long. There is a green slower spathe, but is is barely noticeable since it is so fine that it looks almost like another leaf.
Houseplant care:
Acorus gramineus
grow more or less continuously, but its active growth will slow down under reduced light.
Light:
Medium light or direct sunlight filtered through a translucent blind or curtain will suit
Acorus gramineus
.
Temperature:
An indoor
Acorus gramineus
will grow well in normal warm room temperatures, but can also tolerate temperatures as low as 4C (39F). High humidity is essential; stand plants on trays of moist pebbles throughout the year and mist-spray the leaves during the warm periods.
Water:
Because they are marsh plants,
Acorus gramineus
needs more water than most other types of plants. These plants must never be allowed to dry out at the roots. Water plentifully as often as necessary to keep the potting mixture thoroughly moist. The pot may even be allowed to stand in shallow saucer of water.
Fertilising:
Apply standard liquid fertiliser every two weeks during spring and summer.
Potting and repotting:
Use a soil-based potting mixture. In spring move small plant into pots or shallow pans one size larger if their tufts of leaves have completely filled the surface area of the mixture. 13cm (5 inch) pots or half-pots are likely to be the largest size needed.
Gardening:
Acorus gramineus
when grow outdoor is easily grown in average, medium to wet soils in full sun to part shade. Grows well in both boggy conditions (including very shallow water) and consistently moist garden soils. Scorched leaf tips will occur if soils are allowed to dry out. Appreciates some relief from hot summer sun (e.g., afternoon shade or filtered sun) when grown in hot summer climates. Slowly naturalizes by spreading roots, but is not too aggressive.
Acorus gramineus
can be planted in baskets in shallow water. It also makes a useful aquarium plant but is short-lived where water temperatures exceed 22C (72C) for long periods. Divide every few years to prevent congestion.
Propagation:
Prapagate by separating overcrowded clumps in spring or summer. Carefully pull the clumps apart with the fingers, making sure that a piece of rhizome is attached to each section and treat each divided clump as a mature plant.
Problems:
Acorus gramineus
has no serious insect or disease problems.
Scorch
will occur if soils are not kept consistently moist to wet.
Recommended varieties:
Acorus gramineus 'Variegatus'
is a variegated-leaved form of
Acorus gramineus
. It has white stripes on its green leaves.
Acorus gramineus 'Albovariegatus'
is a variegated-leaved and dwarf form of
Acorus gramineus
. Its leaves grow rarely much larger than 15cm (6 inch).
Acorus gramineus 'Ogon'
(Golden dwarf sweet flag) is a dwarf cultivar if
Acorus gramineus
to 25cm (10 inch) tall and 15cm (6 inch) wide. It has linear fans of glossy, pale green and cream-striped leaves that have an overall golden effect.
Uses
:
Acorus gramineus
can be used as groundcover, in erosion control, rain garden or as a water plant.
Acorus gramineus
are generally paludal (marsh plants) and are equally suited to aqua-terrariums and garden ponds, although they will also survive totally submerged.
Acorus gramineus
can be used to form mass as ground cover in small areas of water gardens, along streams or ponds or in moist open woodland gardens. It is frequently used around the edges of ponds and water gardens, as well as submerged in freshwater aquaria.
Acorus gramineus
is ideal for foregrounds in aquariums. Also effective in rock gardens or border fronts or as small landscape accents as long as the soil moisture requirements can be met.
Acorus gramineus
is the only one species from genus Acorus often grown indoors.
Acorus gramineus
provide a pleasant contrast with the more substantial foliage of other house plants.
SUMMARY:
CHARACTERISTICS:
Foliage green or coloured
Shape grassy
Height: 45cm (18 inch)
PROPER CARE:
Watering in active growth period plentiful
Light bright filtered
Temperature in active growth period min 4C max 24C (39-75F)
Humidity high
Hardiness zone: 5a-10b