Common Names
: Kangaroo Paw, Strong Paws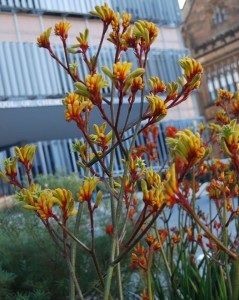 Anigozanthos Gold
Anigozanthos Gold is improved variety of kangaroo paw produces a profusion of delightful, bright golden yellow flowers carried on tall stems. Flowers in late spring and early summer. Bright green, strap-shaped leaves add to the attraction.
Uses:
Ideal for containers, rockeries and borders. Use the flowers for indoor decoration.
Positions:
best grown in freely draining soil in a sunny to partly shaded position.
Care:
Prune flowers stems back to the ground after flowering.
Planting:
Cultivate soil before planting. Dig hole twice the width of the container. Remove plant from container and place into the hole so the soil level is the same as surrounding ground. Fill hole firmly and water in well, even if the soil is moist.
Anigozanthos Gold characteristics:


Full sun


Part shade


Height to 2m


Width 1.5m


Cut flowers


Bird attracting


Great for pots


Well drained soil