Common name:
Birthday Candles, Hairpin Banksia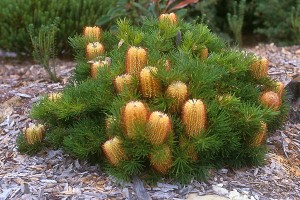 Banksia spinulosa
Uses: Mass planted miniature hedge or individual plants, this compact shrub has dense foliage and golden yellow flowers. Ideal for low maintenance, low water gardens. Plant with Proteas and Australian Natives.
Care: Plant in well drained acidic / neutral soil. Water well to establish 1-2 years. Use natural mulch low in phosphorus. Do not fertilise. Moderate frost tolerance once established. Prune plant to shape if required.
Banksia spinulosa grown in containers should be watered daily. Use premium potting mix for Australian native and Australian native slow release fertiliser.
Banksia spinulosa characteristics:


Suitable for container planting


Low hedges


Birds attracting


Full sun


Tolerates dryness


Autumn flowering


Size: 0.6m(1.9 ft.) tall ; 1.5m(4.9 ft.) wide


Hardiness zones: 9-11