Common Names
: Cousin it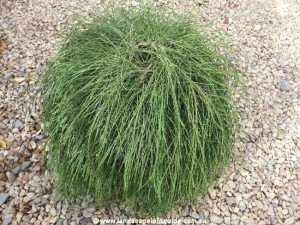 Casuarina galuca
Casuarina galuca is an Australian native plant. Casuarina galuca is an unusual and extremely tough native ground cover featuring fascinating glaucous green, leafless stems! Casuarina galuca has a spreading cascading habit that makes it perfect for harsh growing conditions where in can effectively grow over unsightly pipes, strumps or any ground obstacle with style!
Position:
Adaptable to most soil types, prefers a full sun position.
Habit:
Spreading, cascading habit.
Use:
Ideal for pots and gardens, including banks and retaining walls and all ground cover situation. Provides good weed suppression.
Care:
Casuarina galuca responds well to extra moisture and general purpose garden fertiliser, but will tolerate dry conditions. A light prune will keep the plant looking tidy. If planted in the ground, then little to no irrigation will be needed after the initial establishment period.
Casuarina galuca characteristics:


Full sun


Light frost tolerant


Drought tolerant


Height to 10cm


Width to 1m


Pot


Garden


Coastal