Common Names:
Cabbage Palm, Cabbagetree, Fountain Dracaena, Giant Dracaena, Grass Palm, Palm Lily
Synonyms:
Dracaena australis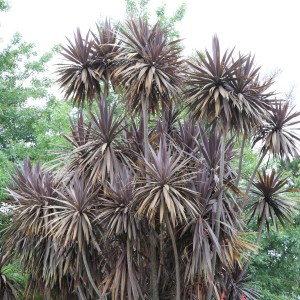 Cordyline australis 'Red Sensati'
Description:
Cordyline australis Red Sensation is exceptional and gives a nice tropical look to any setting. With its long bronzy red foliage, Red Sensation makes a nice contrast in mixed color plantings in the landscape or in containers. The Color of Cordyline australis Red Sensation is best seen in bright sun. Cordyline australis matures measure about 3 m to 4 m in height. Cordyline australis is a palm-like, sub-tropical tree that grows with an upright habit and with age will branch to produce several heads.
CHARACTERISTICS:
Foliage coloured
Shape rosette
PROPER CARE:
Watering in rest period sparingly
Watering in active growth period plentifully
Light direct
Temperature in rest period min 10C max 16C
Temperature in active growth period min 10C max 24C
Humidity low