Common Names
: Star grass, White Star Sedge
Synonyms: Rhynchospora colorata
Family:
Cyperaceae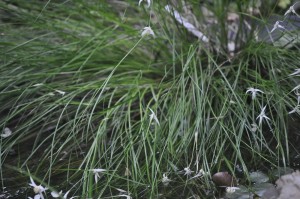 Dichromena colorata
Description & habit:
An evergreen sedge, star grass grows30- 45cm (12- 1 8 in.) tall and produces star-shaped flower bracts at its stem tips.
Potting & growing:
Plant in 8-20l (2-5 gallon) containers with lightly acid soil in sun to pan shade. Cut back when foliage turns rangy for renewed growth. Winter in heated greenhouses or indoors under adequate growlights in zones colder than 9-10.
Propagation:
By division.
Hardiness Zones: 9- 10