Common Names:
Gymea Lily, Flame Lily, Giant Lily, Giant Spear Lily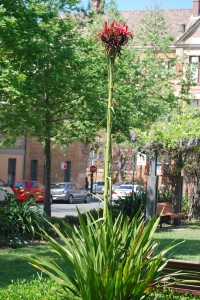 Doryanthes excelsa
Description:
Doryanthes excelsa have big spectacular flower heads, and also clumps of luxurious green leaves that make a fabulous feature in the landscape. Sword-like leaves more than 1 m long surround a huge flower spike up to 6 m high, bearing at its apex a large cluster of bright red flowers, each 10 cm across. Flowers: spring and summer.
Doryanthes excelsa is an incredibly tough plant. It grows from an evergreen bulb which has contractile roots which pull the plant right down into the soil, where it can resist drought and bush fire which triggers it to flower.
It is possible to grow Gymea lilies in large pots or in any position in the garden. They are a very tough, reliable native plant. Also, Doryanthes grows well in coastal areas. They also grow in cooler climates, but be careful because the flower stems and leaves may be damaged by frost. Pests and diseases don't affect them either. They make excellent foliage plants in a large garden or big container, or plant them for the spectacular red flowers that will attract nectar feeding birds.
They are a gross feeder and need fertilising. Use a slow release or complete soluble fertiliser and you'll get great results with masses of beautiful leaves and a beautiful flower.
CHARACTERISTICS:
Foliage green
Shape upright
PROPER CARE:
Watering in rest period sparingly
Watering in active growth period moderately
Light direct
Temperature in rest period min 10C max 13C
Temperature in active growth period min 16C max 24C
Humidity low