[caption id="attachment_330" align="alignright" width="120"]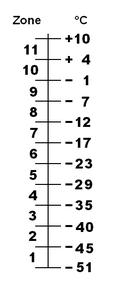 Zonescale Celsius[/caption]
The hardiness zones are informative: the extremes of winter cold are a major determinant of whether a plant species can be cultivated outdoors at a particular location; however, the USDA (United States by the Department of Agriculture) hardiness zones have a number of drawbacks if used without supplementary information.
[caption id="attachment_331" align="aligncenter" width="295"]

Hardiness Zones[/caption]
Europe Hardiness Zones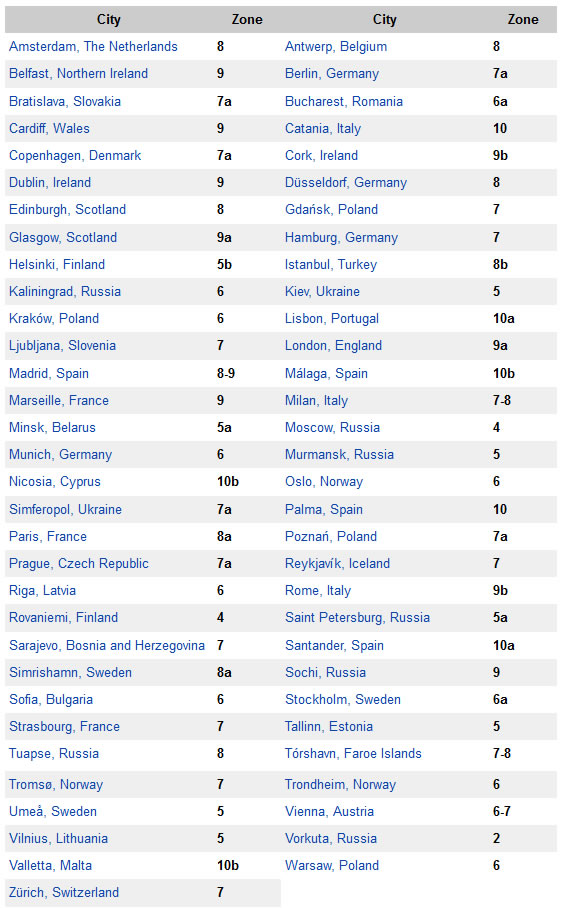 United States Hardiness Zones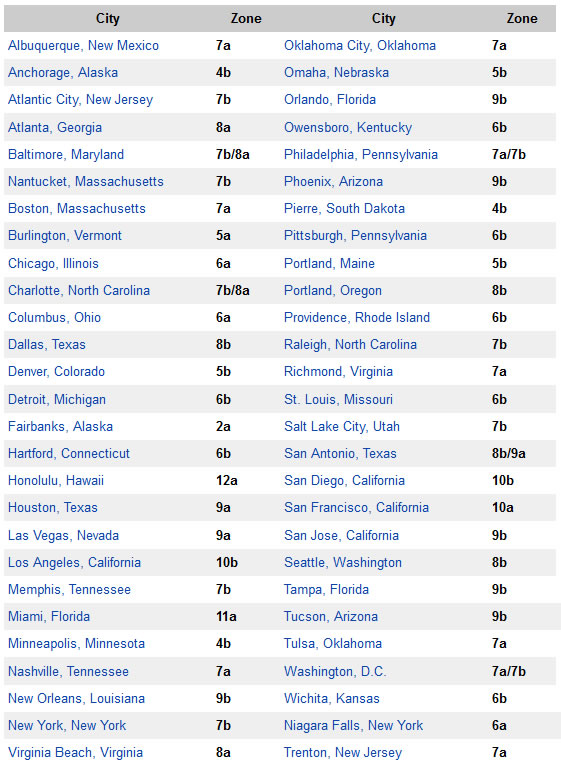 Plant Hardiness Zones for Australia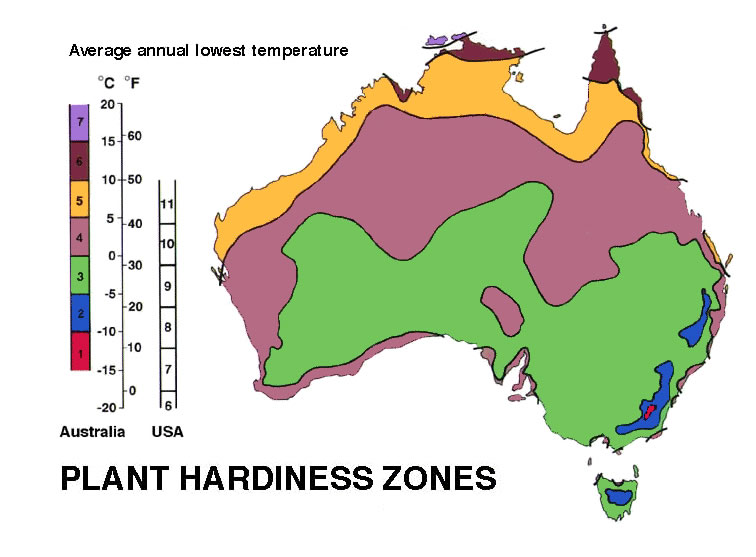 As might be expected, the main factors determining average minimum temperature are altitude, latitude and proximity to the coast.
Zone 1 covers the alpine areas of south eastern Australia.
Zone 2 the tablelands of south east Queensland, New South Wales and Victoria, and the uplands of central Tasmania.
Zone 3 includes much of the southern half of the continent, except for localities on or near the coast. Many of our weather stations are on the coast or on off-shore islands (some of them are lighthouses) and these are often a zone or two higher than adjacent mainland stations because of the warming effects of the ocean in winter.
Zone 4, because of this warming effect, covers a broad area from coastal Queensland across the continent to Shark Bay and Geraldton in the west, also includes the Mornington Peninsula, areas adjacent to Spencer Gulf and Adelaide, the south western coastal zone, Sydney and the north coast of NSW, along with a number of localities dotted all around the southern coast of the continent.
Zone 5 covers, some of the Queensland coast, Western Australia north of Shark Bay and across the top end.
Zone 6 includes the Queensland coast north of Cairns, Cape York Peninsula and the coast of the Northern Territory.
Zone 7 is mainly restricted to islands off the north coast.
AHS Heat Zones
In addition to the USDA Hardiness zones there are the American Horticultural Society (AHS) Heat Zones.
The criterion is the average number of days per year when the temperature exceeds 30C (86F).
[caption id="attachment_335" align="aligncenter" width="429"]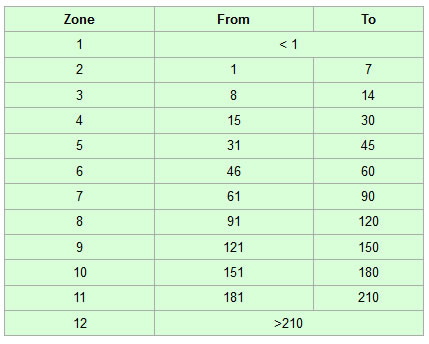 AHS Heat Zones[/caption]