Common Names
: Club Moss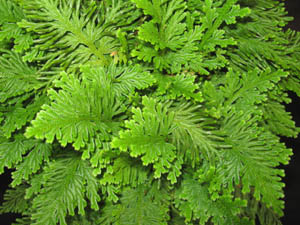 Selaginella emmeliana
An ancient group of plants, the Selaginella emmeliana is closely related to ferns. These primitive plants are prostrate, spreading ground covers with attractive branching green foliage.
Uses: Originally from the forest floors Selaginella emmeliana are perfect for shady moist positions in the garden, in pots, hanging baskets and terrariums. Plant around rocks and water features for s softening effect.
Position: Well drained and moist position with filtered light or full shade.
Care: Water well especially during dry periods. if planting in containers use a premium potting mix. Add organic matter to the soil before planting for best results. Feed with a liquid fertilizer in the warmer months.
Selaginella emmeliana characteristics:


Shade plant


Groundcover


Height: 30cm