Common name:
Inchplant, Wandering Jew, Inch Plant, Cockroach Grass, Purple Wandering Jew, Silver Inch Plant, Silvery Inch Plant, Striped Trad, Striped Wandering Creeper, Striped Wandering Jew, Wandering Zebrina, Zebra Plant, Zebrina
Family:
Commelinaceae
Synonymous:
Commelina zebrina
Cyanotis zebrina
Tradescantia pendula
Zebrina pendula
Zebrina pendula var. quadrifolia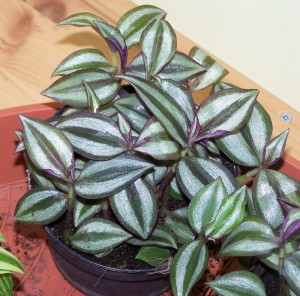 Tradescantia zebrina
Distribution and habitat:
Tradescantia zebrina
is native to the Gulf Coast region of eastern Mexico. It is a weed of waste areas, disturbed sites, roadsides, urban bushland, riparian vegetation, open woodlands and forests in sub-tropical and warmer temperate regions.
Tradescantia zebrina
was widely naturalized in the coastal districts of eastern Australia and on several Pacific islands. It is reported as invasive in many areas in the Pacific, spreading across shady or damp areas.
Description:
Tradescantia zebrina
are trailing plants that have oval leaves roughly 5cm (2 inch) long, with an iridescent upper surface and a rich purple underside. Two glistering stripes of silvery green surrounding a medium green central portion run the length of the upper surface of its pointed-oval leaves
They produce clusters of small, three petaled flowers in spring and summer. They are purple-pink coloured.
Proper care:
Tradescantia zebrina
is noted for its ease of culture and tolerance for wide range of growing conditions. It is quick growing and a very decorative, particularly in hanging baskets where its brilliant leaf colouring can be fully appreciated.
Pinch out growing points of lengthy shoots regularly to encourage the production of side branches. Remove all poorly coloured stems in early spring.
Light:
Give
Tradescantia zebrina
plants bright light at all times for close growth and brilliant leaf colour. Plants can normally be grown at a short distance from a sunny window without too much loss of colour, but growth will probably become straggly and colours will tend to fade as this distance lengthens.
Tradescantia zebrina
plants can be taken outside in summer. Keep them out of the direct sun light.
Temperature:
Tradescantia zebrina
likes warmth but they can tolerate temperatures down to 12C (54F). In cool conditions they grow very slowly.
Tradescantia zebrina
tolerates dry air very well.
Watering:
Water actively growing plants moderately, allowing the top couple of centimetres (1 inch) of the potting mixture to dry out between waterings. When plants are resting, give them just enough water to make the mixture barely moist throughout and allow the top half to dry out between waterings.
Tradescantia zebrina
that have been grown slightly on the dry side show the best colour.
Feeding:
Give actively growing plants standard liquid fertiliser about once every two weeks.
Potting and repotting:
Use a soil based potting mixture. Move
Tradescantia zebrina
into pots one size larger when their roots fill the pot. Plant several rooted cuttings together to create a bushy effect - as many as 12 to 15 in a single hanging basket.
Gardening:
Tradescantia zebrina
is a succulent-stemmed plant that creeps and sprawls and trails all over itself to make a dense groundcover. Pinch stems as needed to encourage dense foliage growth.
Individual leaves will burn and stems will die back, at around 0C (32F), but the plant can regrow as long as it do not get colder than minus 7C (20F).
Position:
Tradescantia zebrina
tolerates a wide range of light levels, but prefers bright shade or semi-shade. Place
Tradescantia zebrina
plants somewhere light, for otherwise it may lose its beautiful colours and turn green. Make certain it does not catch the full light of the midday sun, but it will love standing within some of the soft beams of morning sunshine.
Groundcover plantings can be established effortlessly, then ripped out and moved with ease when the landscape plan changes.
Soil:
Tradescantia zebrina
prefers rich organic soil and thrives on mulch.
When
Tradescantia zebrina
is grown as a groundcover, new branches cover the bare stems and fill in the planting space.
Irrigation:
Tradescantia zebrina
plants like a consistently moist but well-drained soil during the growing season, with reduced watering from fall to late winter.
Water
Tradescantia zebrina
modestly. It does not like to get too wet. Allow the soil to dry out a little before watering again.
Fertilising:
Feed
Tradescantia zebrina
once a fortnight with diluted fertiliser during the growing season. Do not fertiliser these plants in autumn and winter.
Propagation:
Because older leaves dry up leaving bare stems, it is advisable to produce new plants quite frequently. Tip cutting of
Tradescantia zebrina
, about 8cm (3 inch) long taken in spring or early summer will root easily in an equal-parts rooting mixture of peat moss and sand.
Keep the cuttings in bright filtered light, giving just enough water to make the mixture barely moist, and roots will develop in three or four weeks; plant four to six rooted cuttings together in an 8cm (3 inch) pot of standard potting mixture and treat them as mature plants.
Alternatively, root tip cuttings in water. Place the cuttings in small - preferable opaque - glasses of water and keep them in bright filtered light. They will develop roots 2-5cm (0.8-2 inch) long in two to three weeks and they can then be moved into standard potting mixture and treat them as mature plants.
Problems:
Tradescantia zebrina
has no serious insect or disease problems.
Root rot
and
stem rot
may occur if soils are kept too moist.
Watch for
aphids
,
mealybugs
,
scale
,
whiteflies
and
spider mites
.
Treatment: Use a suitable pesticide to prevent these infestations.
Spindly growth and bare stems
: This happens naturally with age for this plant but lack of light, water or plant food can also cause spindly growth. If the plant is old and conditions are fine (water, light etc.) then it could be time to replace it.
All green leaves
: Variegated leaves turning green and losing their variegation is most likely due to too much light.
Limp stems
is usually a sign that the plant is lacking water.
Toxicity:
Contact with
Tradescantia zebrina
plant sap may cause skin irritations.
Recommended varieties:
Tradescantia zebrina
is the parent of a number of varieties:
Tradescantia zebrina quadricolor
has irregular pink, green, cream and silver stripes on the leaves. It is the most attractive plant of this genus, although it is more difficult to grow.
Uses and display:
Tradescantia zebrina
is a very popular trailing plant, commonly grown in hanging baskets or pots as a houseplant. Trailing stems cascade down from a hanging basket. Where winter hardy, it is commonly grown as a groundcover that roots at the nodes as stems spread along the ground.
A few pieces poked into the soil amongst container plants in the greenhouse will quickly flow into a colorful winter carpet.
And it can be used to make a gorgeous flower arrangement out of practically anything by sticking a couple of
Tradescantia zebrina
sprigs in with it.
Tradescantia zebrina
are suitable for mixed plantings in bowls or for training up fan shaped trellises.
SUMMARY:
CHARACTERISTICS:
Foliage coloured
Features flowers
Shape climbing and trailing
Height: 90-120cm (36-48 inch)
PROPER CARE:
Watering in rest period sparingly
Watering in active growth period plentifully
Light bright
Temperature in rest period min 10C max 24C (50-75F)
Temperature in active growth period min 21C max 24C (70-75F)
Humidity low
Hardiness zone: 9a-11